#LittleLoves – Beauty and the Beast, nostalgic songs and a Hetty Mop and Bucket
This week has been busy, with being back at work four days and having more energy which inevitably means I then do more stuff (due to being excited about the energy). Culminating in doing rather too much stuff and wearing myself out.
Anyway, here is what the stuff has been:
Read
Having consulted my kindle, the only thing I can (somewhat ashamedly) admit to reading is 'Mile High', by M.B. Feeney, which turned out to be a short story about a rock star and a stewardess on a plane. You can probably guess the rest. I was somewhere with no reception and it was the only downloaded book I had, actually it was ok. And also good that it was short since it lasted the available time I had perfectly.
Other than that I've only read statistical analysis documentation representing the demographics of Havering. Back at work joy, yay.
Watched
With blogging and going out more, I've not watched much in the way of TV. Other than the obligatory Walking Dead of course.
What I HAVE been watching is Little B playing with her new Hetty mop and bucket set from Casdon. When I was younger, we had a Henry vacuum and he was awesome. Little B was equally as pleased as I always was by her Hetty bucket, which has the familiar smiley face, and as an added bonus is a lovely bright pink – her current favourite colour (you can get Henry in bucket form too).
Our actual household mop is far too big for her to handle (it's a super whizzy pump action kind of thing) so having her own little mop is very exciting, apparently. As soon as she saw the box she was keen to get it out and get 'mopping'. Since then we've had a lot of great imaginative play, and actually a bit of real mopping too, after she poured her water into the bucket. Hetty seems to have coped with it well. And I'm hoping that learning to 'mop' with a Little B sized set will help her improve her hand eye co-ordination so she can get on with mopping for real in a year or so 😉
You can find out more about the Hetty and Henry mop and bucket sets on Casdon's Twitter and Facebook pages.
Made
I've not made much this week, other than assisting the kids with making things themselves. D had a brilliant set from Wild Science which included a glitter tube and a lava lamp, I actually quite enjoyed helping her to make those. There is something very satisfying about mixing up potions and powders. That's probably why my Mum never let me read George's Marvellous Medicine.
Wore
The Stitch hoodie has been out in force again. Other than that, I've been loving my MinkPink denim jacket from ASOS, which is Beauty and the Beast themed. Glad it's been warm enough to only need a lightweight jacket too 🙂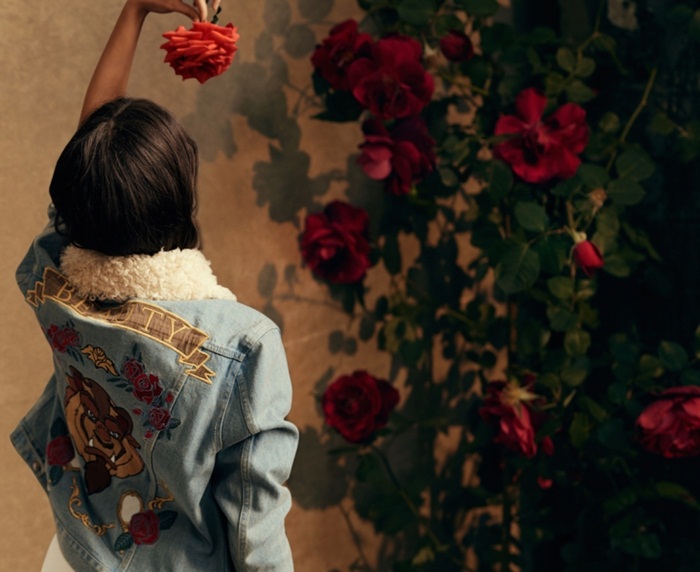 Heard
Gecko (my Amazon echo) has been getting a good work out this week, belting out all kinds of songs. I've rediscovered my love for Eels, and there has been a fair amount of Belle and Sebastian, Pulp, Guns and Roses, Queen, Suede, and other really old bands that I think are the best music ever, because they informed my teenage years.
And lastly…
I went out on Thursday night and it was awesome 🙂